Human-centric office lighting boosts productivity
25 Sep 2018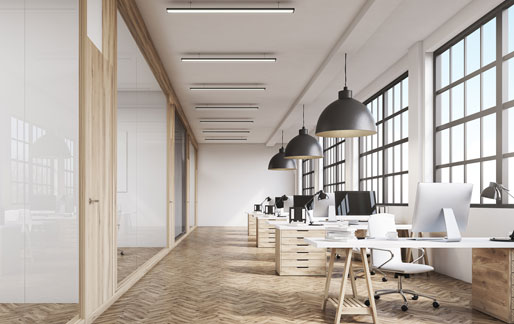 The installation  of 'human-centric' lighting at the office of the property company CBRE has boosted productivity by 18%, results of an experiment show.
Additionally, work accuracy improved by 12%, while 76% of employees reported feeling happier and 50% felt healthier.
The findings – by scientists from the Twente University, The Free University Amsterdam – will be seized on by the lighting industry as long-awaited hard evidence that investment in dynamic lighting gives a tangible return.
The time-controlled lighting system features a 'circadian-friendly' lighting sequence, which varies the colour temperature and intensity during the course of the day. Employees are stimulated during the morning and early afternoon with high illuminance levels and cool indirect white light. At midday and late afternoon, the light levels fall and become warmer.
The general lighting pendants feature direct light with a colour temperature of 4000K and ulta-cool indirect monochrome light of 6500K. The latter component is distributed across the ceiling during the course of the day via the separately controllable direct and indirect components.
Additionally, light sources were aligned onto the walls to create high vertical illuminance levels. Luminaires suspended from the ceiling in the open office area generate a pleasant indirect light component and avoid glare. In total, the luminous intensity was almost doubled.
The 124 employees at the CBRE headquarters in Amsterdam were then surveyed over seven months, with more than 100,000 data records analysed. The survey included questionnaires, experiments, biological data, daily movement evaluations and interviews.
The Healthy Offices project, as the survey was dubbed, measured the effects of changes in work surroundings and health over a period of seven months. The team of researchers specified five modifications to the work environment that could theoretically have the most impact on health and employee potential – on the one hand health aspects such as healthy nutrition, mental balance and physical movement and on the other, environmental factors such as the natural interior design and suitable lighting. In this case the influence of circadian lighting adapted to the sequence of daylight was analysed.
Reseachers recorded an accuracy improvement of 12% in an objective experiment. Additionally, the participants working in the office with the human-centric lighting found their total work performance to be 18% better, 71% found they had more energy, 76% thought they were happier and 50% healthier.
Source: luxreview.com